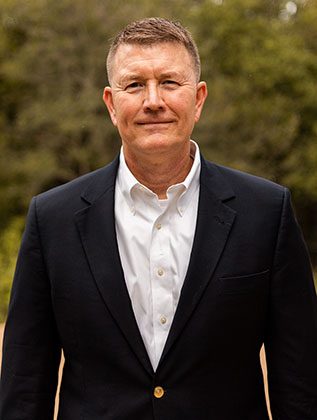 LTC (retired) Scott D. Walters enlisted in the Louisiana Army National Guard on 1 July 1985, and was assigned to Co C, 205th Engineer Battalion, Slidell, LA.  Scott's next assignment was as an Officer Candidate; he completed Officer Candidate School in July 1989.  Soon after completing OCS, Scott was assigned as a Platoon Leader in Co A, 2/156th Infantry Battalion (Mechanized), in Breaux Bridge, Louisiana.  Following this assignment, Scott was assigned to the Inactive Ready Reserve while attending law school at Tulane Law School, New Orleans, LA.  After being selected as an Army Judge Advocate, Scott entered active duty with the Army in June, 1997.
Scott served as a trial counsel with the 36th Engineer Group (including an operational deployment to Nicaragua) and as the Legal Instructor at the U.S. Army Infantry School, Fort Moore (formerly Fort Benning), Georgia.  Following this assignment, Scott served as a defense counsel at the XVIII Airborne Corps and 82d Airborne Division Trial Defense Service offices at Fort Liberty (formerly Fort Bragg), NC.  Scott then transferred to Hawaii, where he was assigned as the Command Legal Advisor for Special Operations Command, Pacific.  Scott's next assignment was as the Brigade Judge Advocate for 1st Brigade Combat Team, 1st Cavalry Division, Fort Cavazos (formerly Fort Hood), Texas.  This tour also included a 15-month deployment to Camp Taji, Iraq.  After departing Fort Cavazos, Scott was assigned as a Litigation Attorney with the U.S. Army Environmental Law Division, Arlington, VA.  Scott then returned to Fort Moore, assigned as the Regional Defense Counsel for the Mississippi Valley Region of the U.S. Army Trial Defense Service.  Scott then traveled to the Republic of Korea, serving as the Deputy Staff Judge Advocate for Eighth U.S. Army.  From Korea, Scott was sent to Italy to serve as the Command Legal Counsel for NATO Allied Joint Forces Command, Naples, in Naples, Italy.  After departing Italy, Scott took the position as Chief Counsel, U.S. Army Environmental Command, JBSA-Fort Sam Houston, TX.  Following his tour in San Antonio, Scott served as the Senior Military Legal Advisor for the Office of the Convening Authority, Office of Military Commissions, in Alexandria, VA.  Scott retired from the Army effective September 1, 2023.
Scott completed Basic Combat Training, Advanced Individual Training, Combat Engineer Training, Officers Candidate School, Infantry Officer Basic and Advanced Courses, the Judge Advocate Officer Basic and Graduate Courses, Intermediate Level Education, and the Joint and Combined Warfighting School.
Scott's awards include the Legion of Merit, Bronze Star Medal, the Defense Meritorious Service Medal with one Oak Leaf Cluster, the Meritorious Service Medal with five Oak Leaf Clusters, the Army Commendation Medal, and the Army Achievement Medal with one Oak Leaf Cluster.  Scott is also entitled to wear the Parachutist Badge, and has 29 jumps to his credit.  Scott is also a Joint Qualified Officer.
Scott has been married to Laurie Heinecke Walters for 12 years, and they have one daughter.  They reside in San Antonio, Texas.  In his spare time, Scott enjoys restoring classic cars.