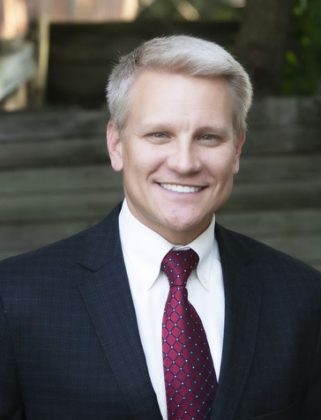 Mr. Stanfield is the lead trial attorney for Rees, Kincaid & Stanfield.  Jon's team of prior service lawyers is dedicated to protecting the legal rights of veterans and Service-members around the world.
Mr. Stanfield's advocacy training started, not in law school, but in high school where he led his high school policy debate team to its first state championship in nearly twenty years.  Not to be confined to Kansas, Mr. Stanfield also qualified to compete nationally in policy debate and extemporaneous speaking.  He took this competitive spirit with him to the University of Michigan on an Army ROTC scholarship.  There he studied in the highly regarded political science department and was a proud member of the Ranger Challenge Team.  He also attended Airborne School and served as a cadet company commander as a senior.  Mr. Stanfield commissioned as a Second Lieutenant in Military Intelligence and earned an educational delay to attend law school prior to starting active duty.
At George Washington University Law School, Mr. Stanfield served on the Moot Court Board and volunteered as a Policy Apprentice at a non-profit, defense advocacy center in Washington, D.C.  Selected to serve as a Judge Advocate and promoted to First Lieutenant, Mr. Stanfield attended the JA Officer Basic Course where he finished on the Commandant's List and received an award for distinguished accomplishment in the study of International and Operational Law.
Mr. Stanfield's first military assignment took him to Fort Sill, Oklahoma.  In Legal Assistance he drafted rebuttals to General Officer Memorandums of Reprimand, Reports of Survey and worked on a wide variety of other adverse administrative actions.  Mr. Stanfield then served as the trial counsel for two combat artillery brigades under III Corps, the 75th and the 214th and, part-time, as a Special Assistant U.S. Attorney for the Western District of Oklahoma for the purposes of prosecuting civilian offenses on nearby federal lands.  In these roles Mr. Stanfield prosecuted numerous felony level offenses including substantial work on a double homicide.
After three and half years at Fort Sill, Mr. Stanfield moved to Heidelberg, Germany to serve as the Chief of the V Corps Claims Office.  In addition to this role, Mr. Stanfield also served as a Part Time Military Magistrate to review requests for search authorizations and perform pretrial confinement reviews as needed.  Mr. Stanfield held the government to the standard and ordered the release of detainees if the government failed to meet its burden.  Mr. Stanfield next served as the Deputy Officer in Charge of a law center but spent a substantial amount of time training with V Corps HQ in operational law after the attacks on September 11, 2001.  This training culminated in Mr. Stanfield's deployment to Kuwait in 2003 to serve in the V Corps Fire Effects Coordination Cell during major combat operations in OIF.  Mr. Stanfield worked the night shift during the initial invasion of Iraq and reviewed hundreds of targets, in real time, for compliance with the law of war, the rules of engagement, and collateral damage issues.
Upon redeployment from Iraq, Mr. Stanfield moved to Wiesbaden Army Airfield to serve as the senior defense counsel with supervision of the Wiesbaden and Baumholder field offices.  In this role Mr. Stanfield served as lead counsel on a high-profile murder trial (United States v. Velazquez) involving the death of a local national at a night club.  Facing a maximum punishment of life in prison, Mr. Stanfield's client avoided the murder conviction and served less than four years on a lesser included assault charge.
After his selection for promotion to Major and over seven years of active duty, Mr. Stanfield transitioned to the Ready Reserve.  He later began drilling as an Army Reserve senior defense counsel with the 22nd Legal Support Organization.  Mr. Stanfield attended the JA Advanced Course and was again recognized on the Commandant's List.  At his one and only board that went to hearing during this time, Mr. Stanfield won an honorable discharge for his client despite three positive tests for cocaine and the fact that he was voluntarily absent for his hearing, thereby forcing Mr. Stanfield to defend the so-called "empty chair."  Mr. Stanfield eventually resigned his commission to focus exclusively on his civilian practice.  Rees, Kincaid & Stanfield proudly represents all branches of the service and defends service members where ever they find unfair treatment or false accusations.