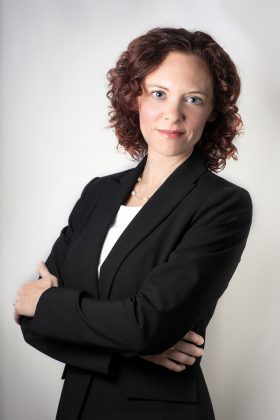 Leah joined Rees, Kincaid & Stanfield after almost 14 years of active duty and one year as a Reservist serving in the U.S. Army Judge Advocate General's (JAG) Corps.  Born and raised in California, Leah graduated magna cum laude from Fresno State University in 1999 with a business degree, including a minor in business law.  Quickly realizing her interest in the law far surpassed any other career aspirations, Leah then attended the University of the Pacific, McGeorge School of Law, earning her law degree in 2003.
While in law school, Leah served as an editor for the International Law Review and worked at the Victims of Crime Center where she became heavily involved in victims' rights and the promotion of fairness in the legal system.  Leah was chosen for one of the coveted JAG intern positions in the summer of 2002, which promptly cemented her love for both the JAG Corps and the Army.
After a six-month stint as a law clerk with the Riverside District Attorney's Office in California, Leah was selected for accession to active duty in the US Army as a First Lieutenant in 2004.  Leah excelled in the Officer Basic Course and spent her first tour of duty in Iraq serving as both a prosecutor and legal advisor to a brigade commander.  It was during this time that Leah gained funding, organized travel logistics, and escorted several Iraqi citizens to Egypt for three weeks of civil rights education.
Leah spent much of her time on active duty prosecuting military cases, but she also enjoyed her time as a Special Assistant to the US Attorney in the Western District of Washington U.S. District Court and the Chief of Client Services.  Additionally, Leah prosecuted numerous cases in Korea and Japan as a Special Victims' Counsel, not only serving as lead counsel but also training and mentoring several junior prosecutors.
Although Leah's experience as a prosecutor is vast, from 2009-2011 while serving as a trial defense counsel, she discovered her true passion was defending Service-members.  Recently promoted to Lieutenant Colonel in the U.S. Army Reserves, Leah is thrilled to work with Rees, Kincaid & Stanfield where she continues to represent those who valiantly serve our country.